Sparks Reframing Houston
This April
When I think about Houston, I try to step out of my own experiences and see it the way other people do. On most mornings, I read the Houston Subreddit. On the Reddit community platform, Houstonians have discussions, often snarky, with each other and visitors from around the world. I especially enjoy threads where people try to describe Houston. Here's a nice example: https://www.reddit.com/r/houston/comments/7ziynt/what_food_or_dish_best_describes_houston/. My favorite reply is from kimshrug:
I don't think one food or dish can describe Houston. Just like one person or one group couldn't be the face of this city. Maybe bbq'd fajita crawfish tacos??

Houston is not often described as "creative," but if we get into the habit of noticing Houston's sparks of creativity, we can more often see its possibilities. More importantly, we can help the world see Houston as a leader in finding new solutions to problems, like COVID-19, which are plaguing the world.
Fast Company: How Reframing A Problem Unlocks Innovation, 2013-Apr-4 by Tina Seelig of Stanford University
… you can look at every situation in the world from different angles, from close up, from far away, from upside down, and from behind. We are creating frames for what we see, hear, and experience all day long, and those frames both inform and limit the way we think. In most cases, we don't even consider the frames–we just assume we are looking at the world with the proper set of lenses. However, being able to question and shift your frame of reference is an important key to enhancing your imagination because it reveals completely different insights.
I hope this months Sparks will give you a few more frames for Houston.
Photographer Geoffrey Winningham practices radical observation, seeing more than most of us. More importantly, as a Rice University professor he teaches this skill to others. He's famous for his books of photographs, including A Place of Dreams about Houston. From 2011 to 2016, he collaborated with Houston school children for In the Eyes of Our Children. Below a snapshot of his recent Changing Houston exhibit.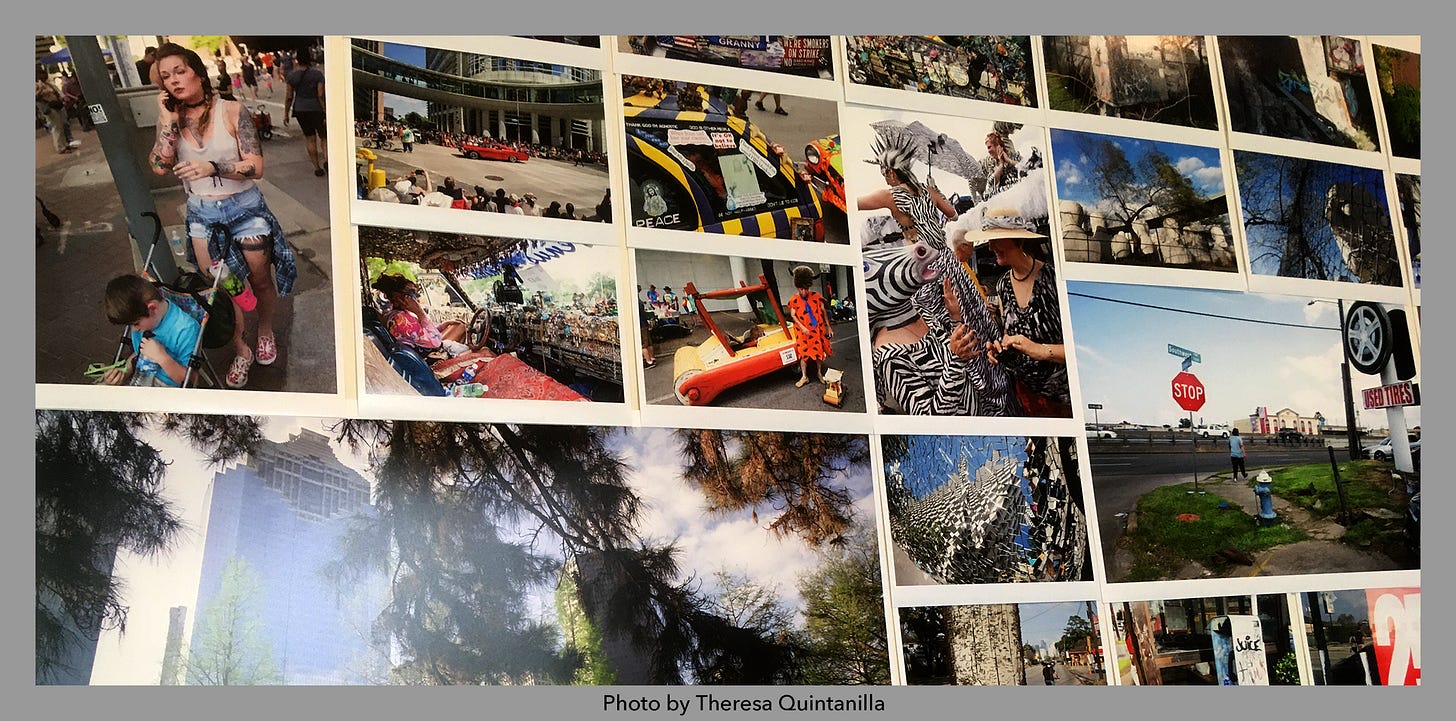 Max Gonzales invented a new business model for his Catalina Coffee shop and enriched the Houston coffee scene. Catering to coffee connoisseurs, the shop sits just west of downtown and attracts both office and creative professionals. Learn more of his story in a great interview by Katharine Shilcutt.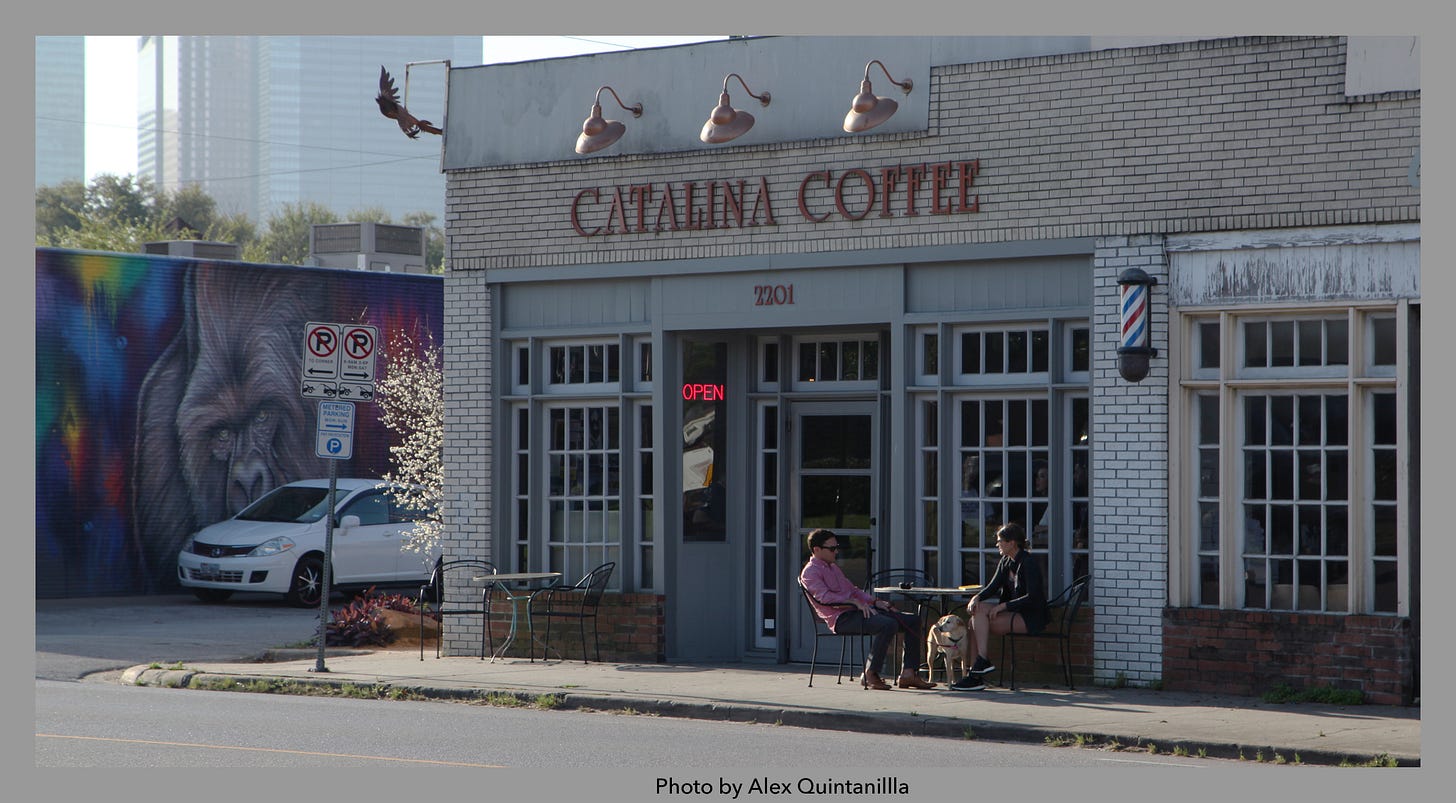 Houston didn't invent the art car, but we invented the art car parade in 1988. The Orange Show developed it, but it now belongs to the city residents who decorate and build all manner of moving art works to participate. It's now the largest art car parade in the country, attracting celebrity grand marshals like Cheech Marin and Dan Aykroyd. See more photos from Creative Houston.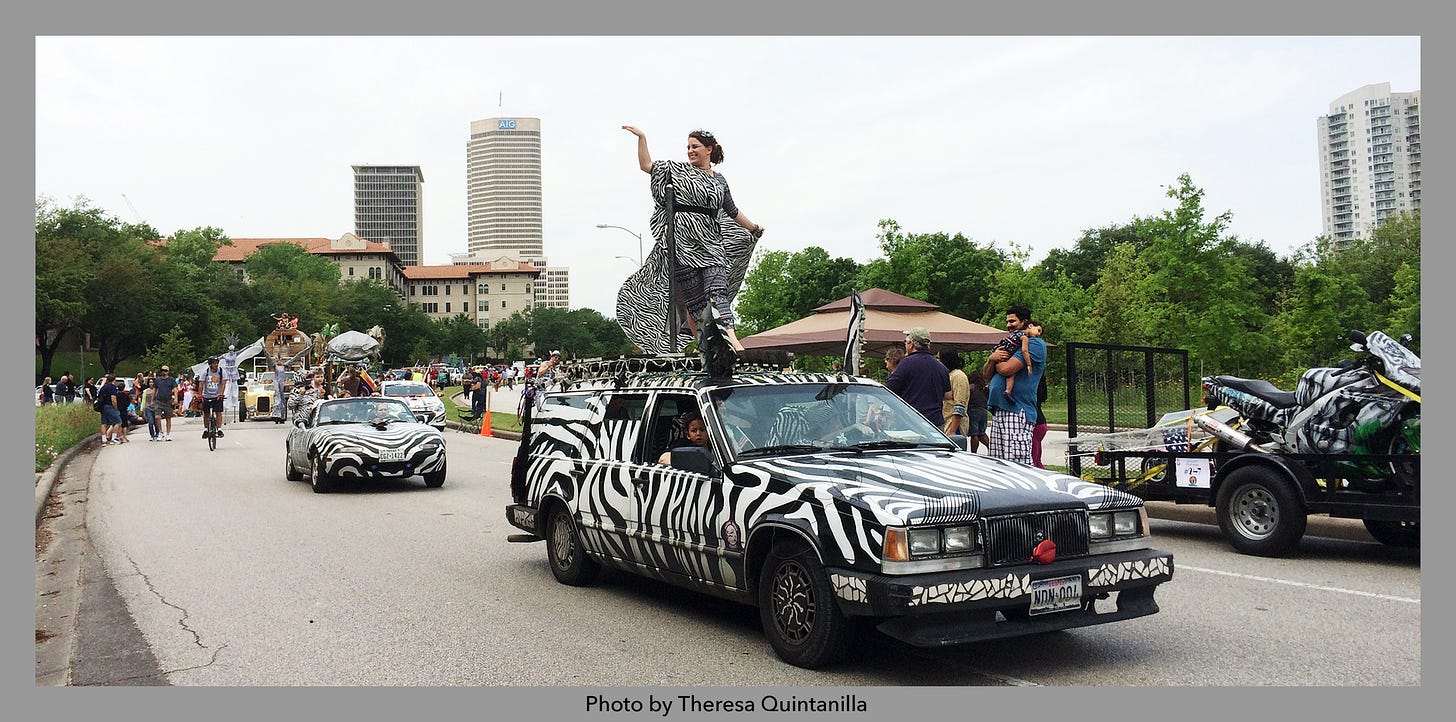 On the eastern edge of Memorial City, Houston architecture firm Studio Red built the Treehouse. Designed through collaboration, for collaboration, the MetroNational conference center has wowed the national architecture community. We all can visit the first floor restaurant, Liberty Kitchen.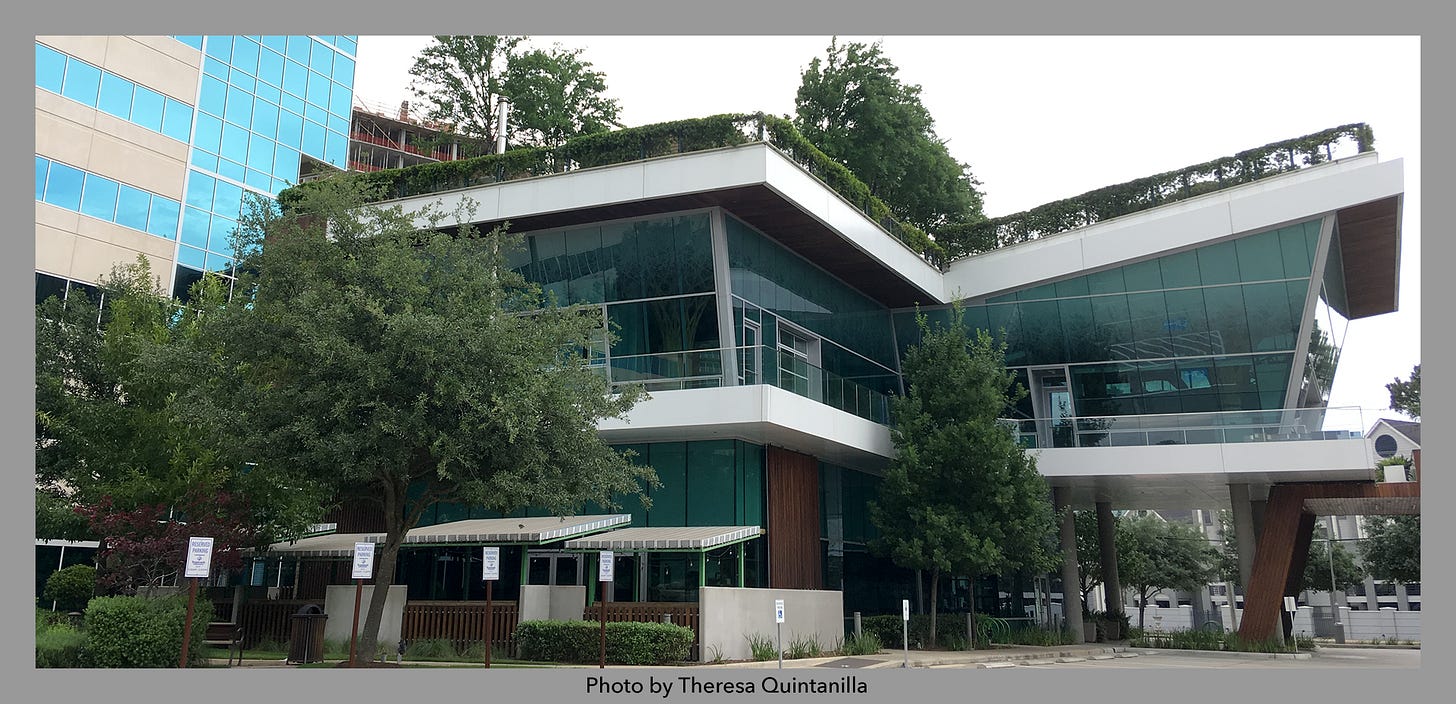 One of the winningest art car paraders is Mark Bradford, known as Scrapdaddy. His 12-foot Mr. Green from 2012, 99% recycled materials, won the top prize. Bradford welds art and mechanical engineering, and his work has been featured in several exhibits. You can visit his Houston studio via video.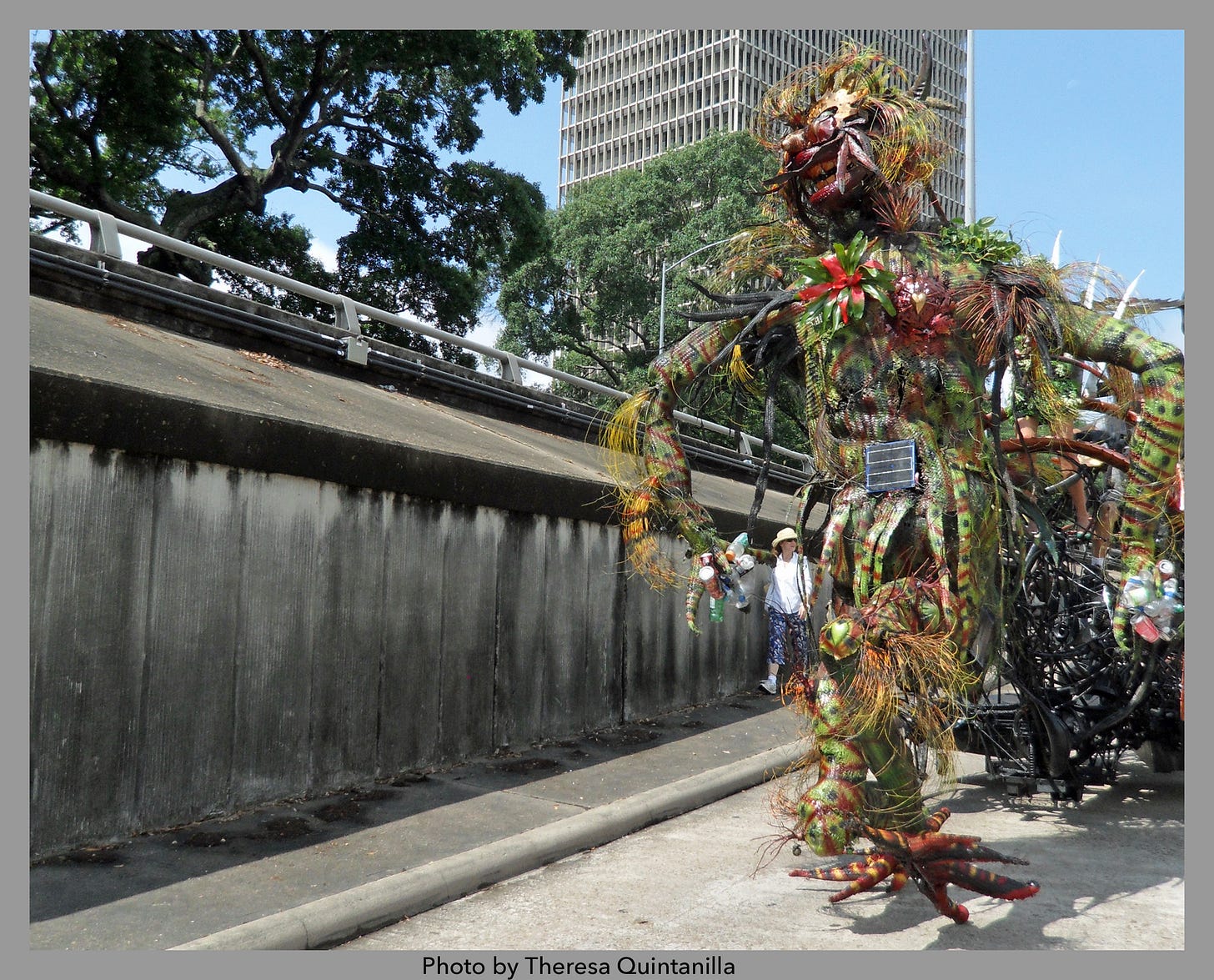 When visitors search for a unique place to stay in Houston, they are frequently directed to the Modern B&B, designed by Rodney Collins and run by Lisa Thompson. Long before AirBnB, they envisioned a bed-and-breakfast with modern styling and artwork. The Montrose location offers leafy views from many porches. See its architectural story.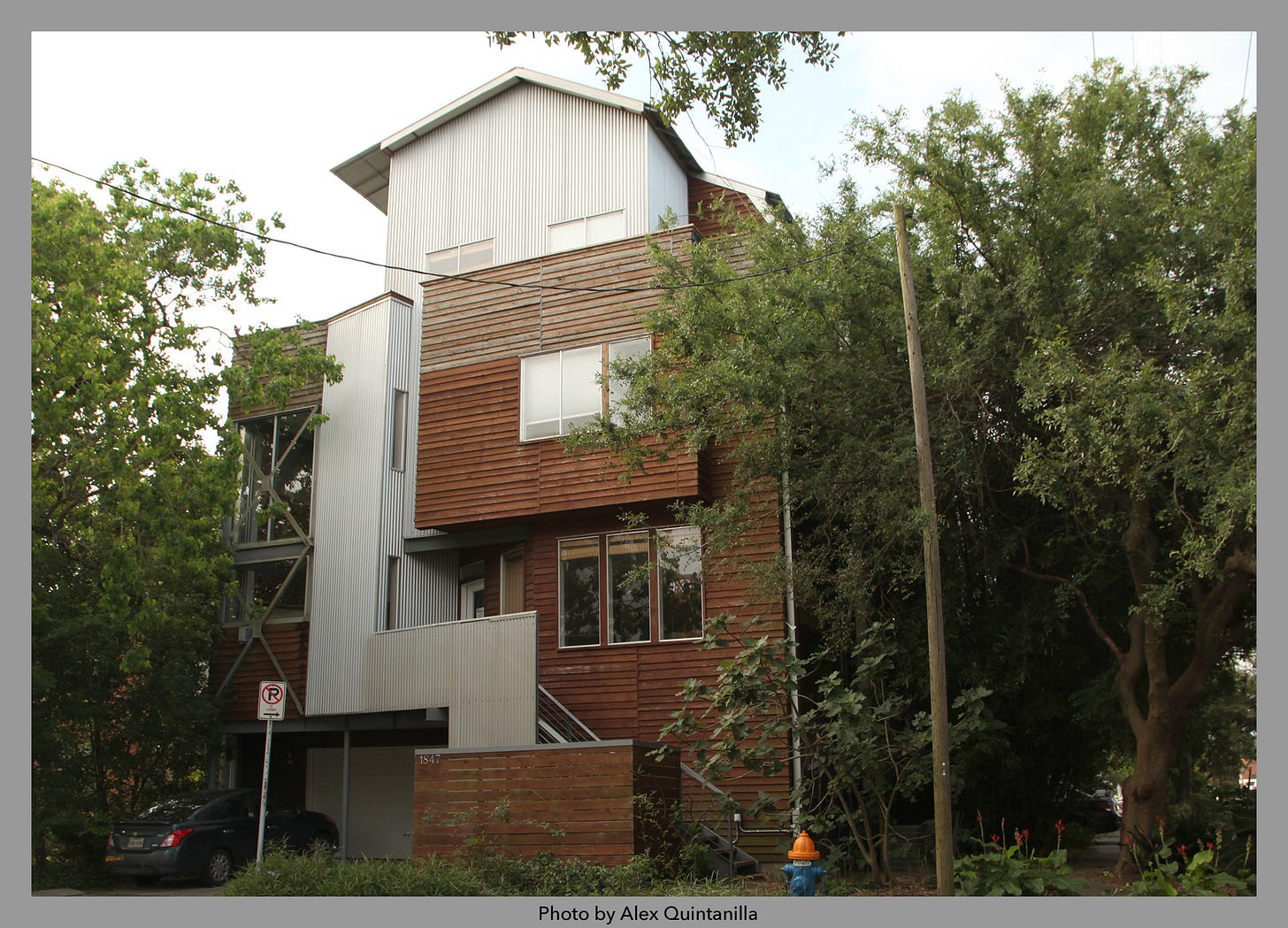 Please share our stories and subscribe to support our efforts to reframe Houston.