Houston creatives embrace diversity
June 2020
The exploitation of black creativity, part of the devaluing of black lives, stops with us. To support the movement, this month we'll focus on the contribution of black Houstonians. As always, we focus on creative, innovative, and inventive projects by Houstonians, for Houstonians—as well as the rest of the world.
In putting together these stories, some places and projects were top of mind, and some had to be uncovered. We were sad to not find any notable buildings by living Houston-based black architects. Please comment on our latest newsletter if you have any recommendations or discoveries of your own.
*Throughgood Coffee*
Houston pastor Rudy Rasmus started with the idea that good coffee shops develop fellowship and understanding in a community. Then he went looking for good partners and a good space that provided an opportunity to contribute part of the profits to his other project, relieving homelessness through Temenos CDC. Read the review at Conde Nast Traveler. Hungry? Find more black-owned restaurants here.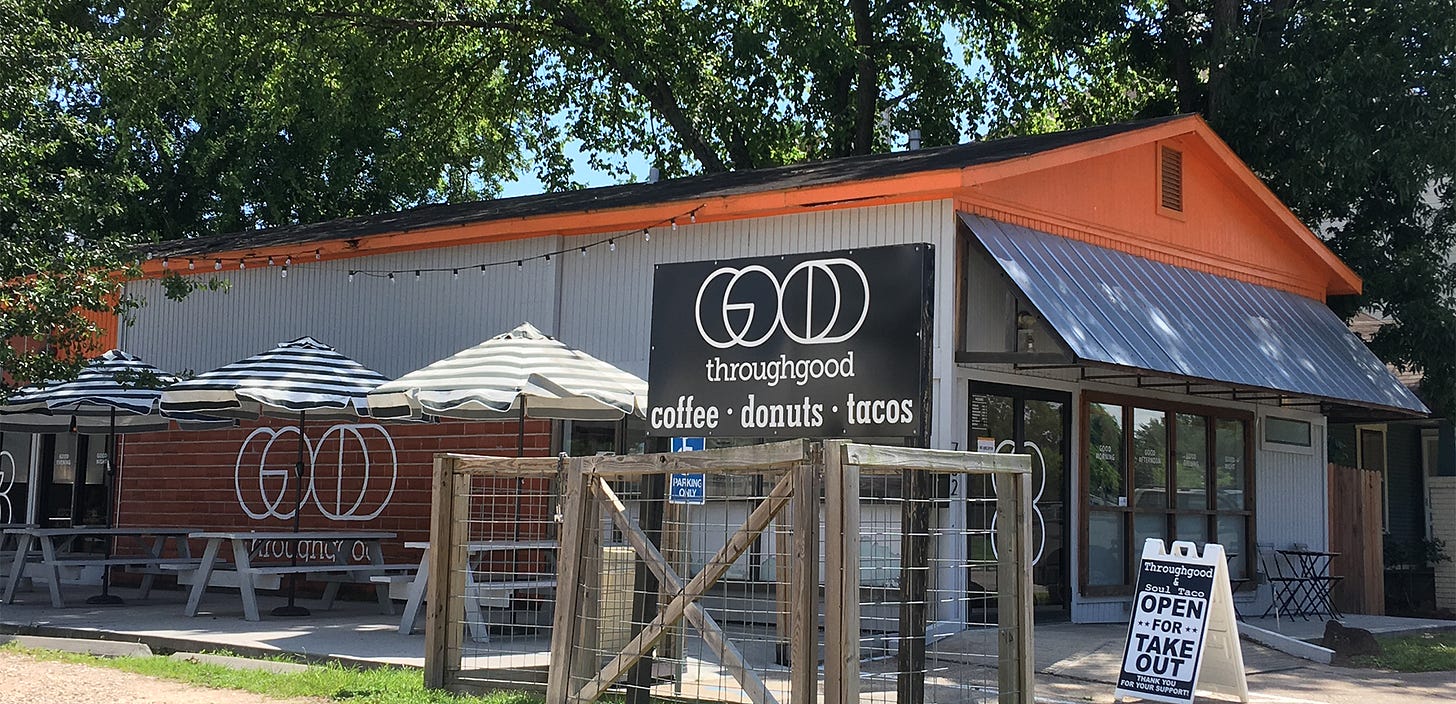 *Project Row Houses*
The MacArthur Foundation described Project Row Houses as "a visionary amalgam of arts venue, community support center, and historic preservation initiative" when they awarded co-founder Rick Lowe a 'genius grant' in 2014. PRH now provides youth art education, residencies for working artists, and housing for single mothers. The restored shotgun houses anchor an arts district of ten blocks, and PRH has been a model for Lowe's social-practice art projects in Los Angeles, New Orleans, and Dallas. See more photos at CreativeHouston.org.
*A Leap of Style*
In 2014, Karissa Lindsay ran a successful Kickstarter project to scale up production of her women's clothing inspired by West African Ankara styles. Since then she's gotten national media coverage for her dresses, skirts, and blouses. She chose the name "A Leap of Style" to encourage women to step out in striking garments that reflected their confidence and sense of adventure. What other Houston designers stimulate your creativity?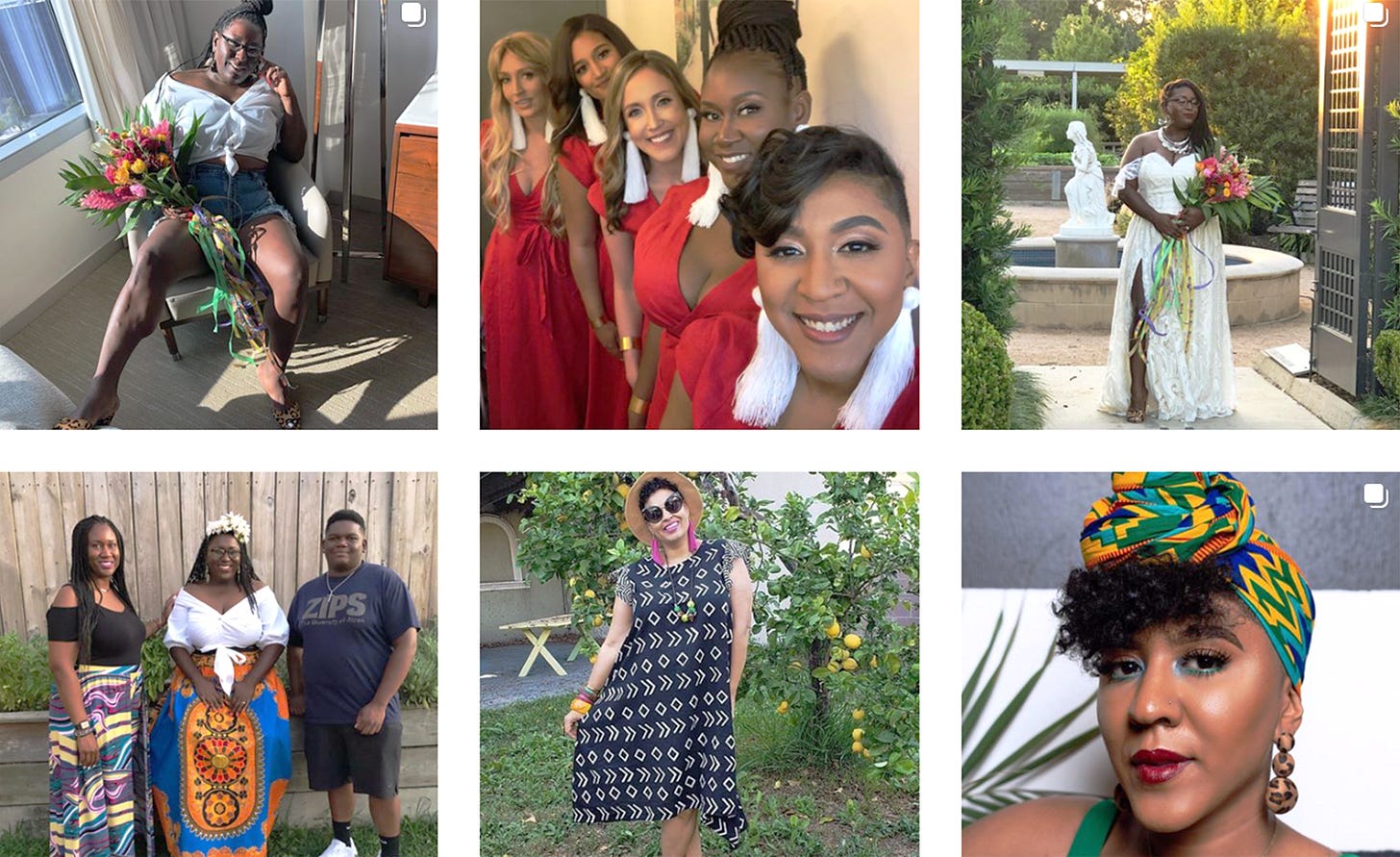 *Unity (Riverside) Bank*
Architect John S. Chase (1925-2012) is a founder of modern Houston. The first licensed African-American architect in Texas, he brought the principles of Frank Lloyd Wright to Houston. To truly appreciate his Riverside National Bank building (now Unity), you should go see how jazzy it used to look. Two of his best buildings are at Texas Southern University, the law school and the humanities building. Can you point us to the other Houston work of black architects?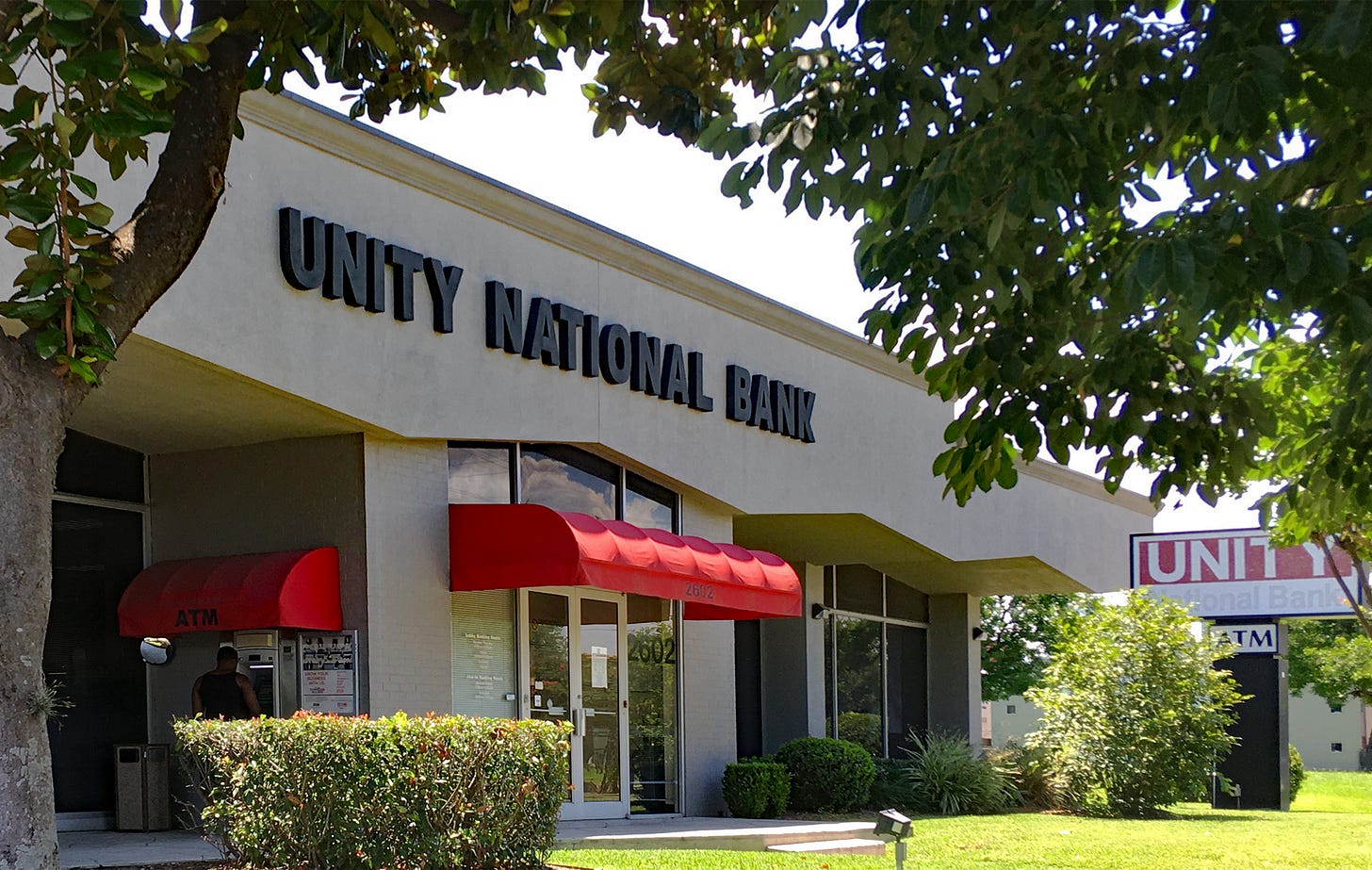 *Fashion Entrepreneurs*
In February of 2019, Kelly Richardson launched Fashion Entrepreneurs of Houston to help people in the fashion/beauty industry collaborate and learn ways to improve their business. In addition to lively meetings, Kelly provides an extensive web site and even publishes a magazine. Check out her massive list of locally owned fashion/beauty businesses. You can sign up for the newsletter or join the Facebook group.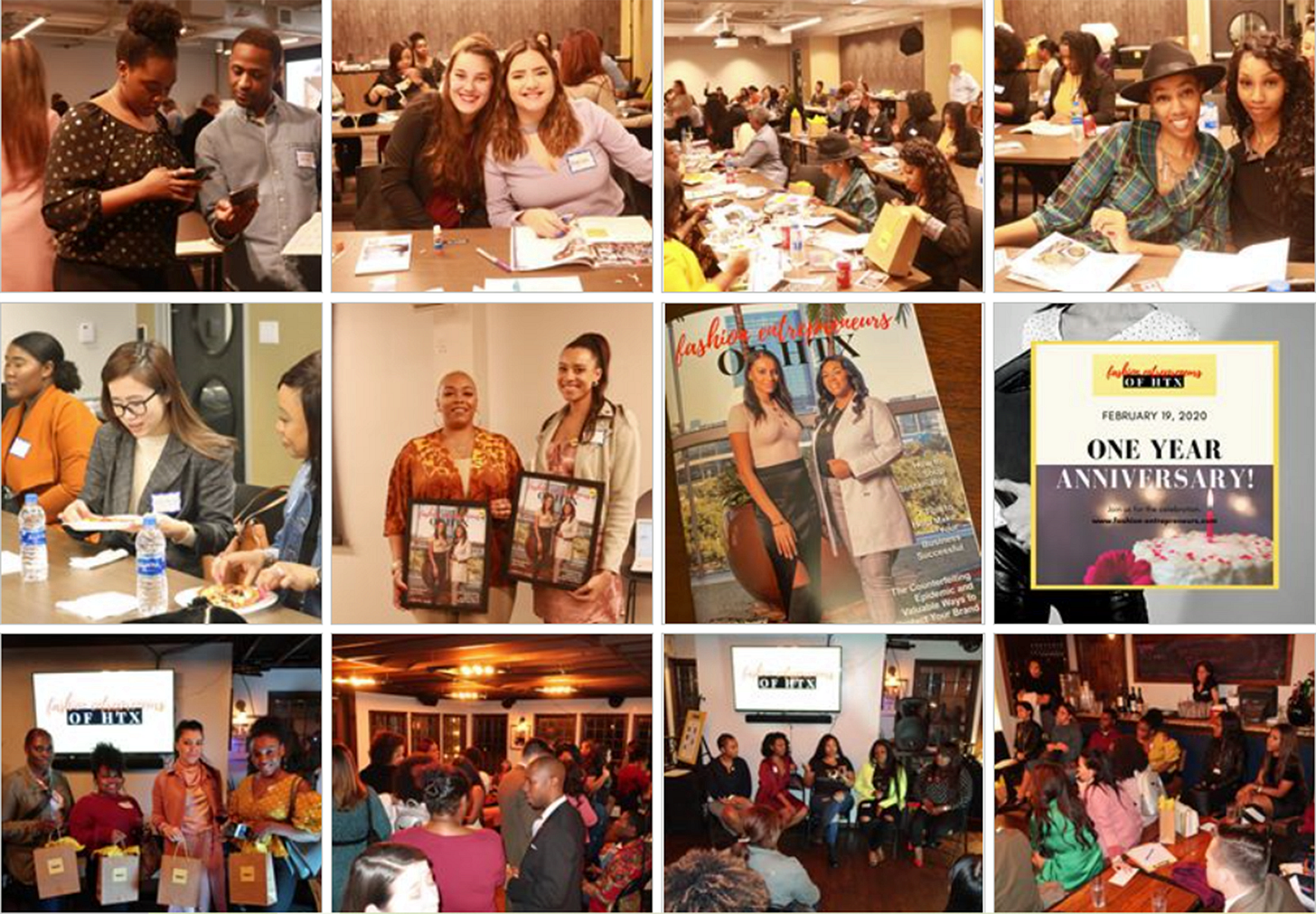 *La Maison*
When Genora Boykins and Sharon Owens followed their dream of owning a bed and breakfast, they ended up building it from scratch, on a quiet corner of Midtown Houston. Their "escape in the city" is three floors of elegantly furnished rooms, all with private baths and business-ready conveniences. Their hands-on management has led to sterling reviews and contributed to the redevelopment of Midtown as a travel destination neighborhood.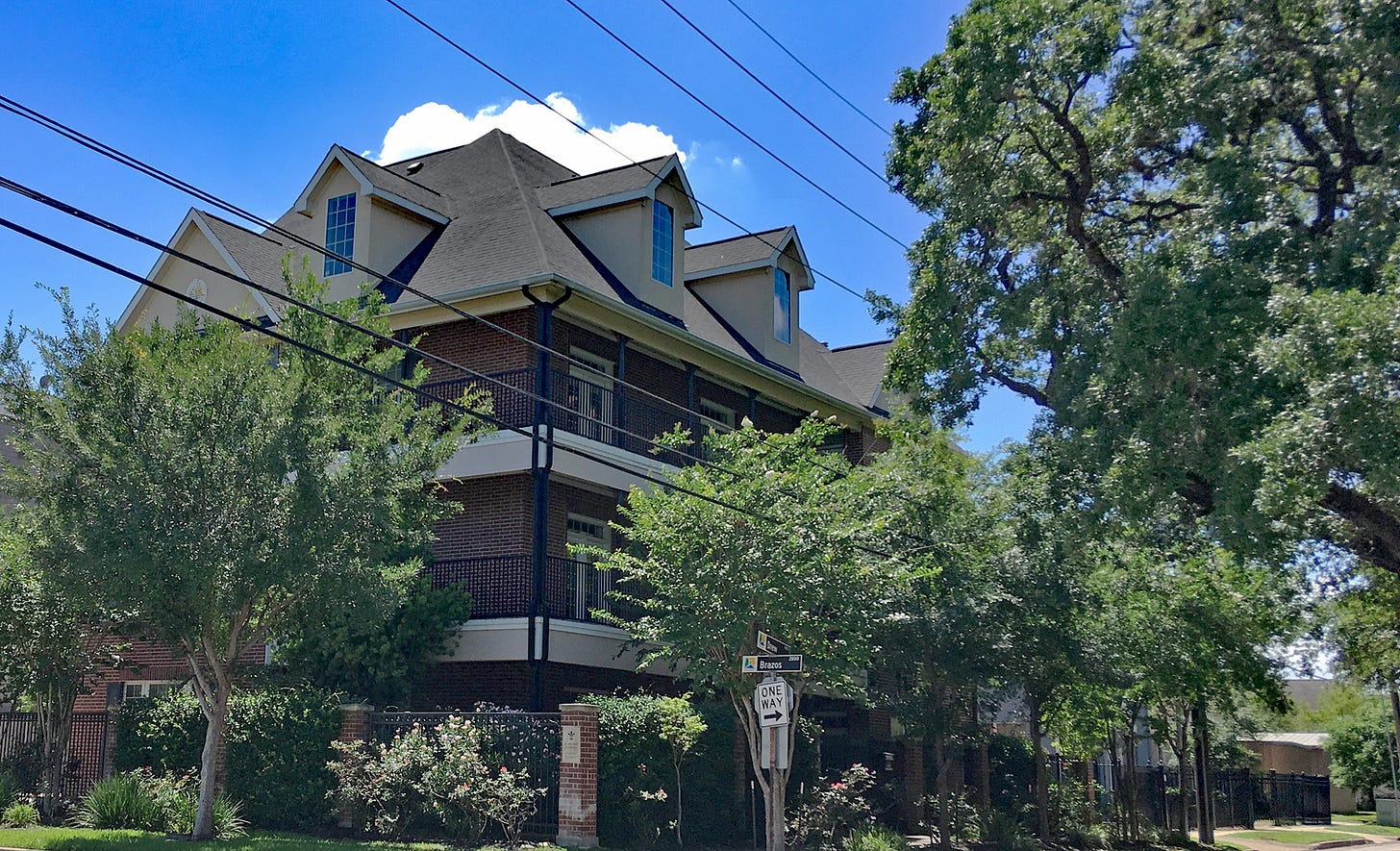 Have a suggestion or a comment? We'd love to hear from you. Please subscribe and create a simple profile at our newsletter to have your say. It's free throughout this year, 2020.